Ty is excited to see MomMom!
Jackson and Uncle Noah are silly.
We spent the weekend at Aunt Lisa's place in Ocean City!!
Ty checks things out.
What could be better than the beach??
RIDES!
Jackson and Zack focus on driving safely.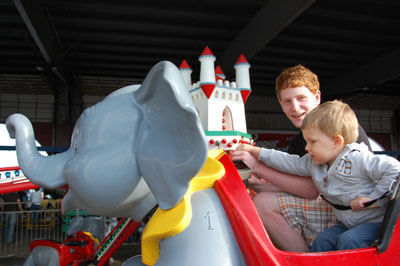 Flying an elephant is hard work!
Fun on the ferris wheel
Even Ty got to come along!
A ride on a duck-shaped log.
Whose idea was that?
Nana helps Ty with his rice cereal. Tasty!
Ty and PopPop on the beach
Daddy shows Jackson how to fly a kite.
"No No! I don't like that!"
Jackson does yoga on the beach to relax
after his close encounter with the kite.
• The Schaffers in Durham •
Jackson feeds Ty! Mom is impressed.

Happy Ty is even happier with a full tummy.
At the Durham Bulls game
Jackson discovers cotton candy.
Uncle Josh takes his turn with Ty.
Aunt Lindsay is afraid no longer!!
It was great to see PopPop and Nani!
The Hagensicks, Maleks and Weinsteins!
View from the Shedd Aquarium
Grandpa shows Jackson the fish.
Wow! A shark!
Ty hangs with Cousin Laura at Berghoff's.
Elisa, Greg and Janet
(better known as Auntie Lisie, Uncle Greggor, and Mommy)
Family photo op in front of the magic bean
Grandpa takes some Ty time.
Silly Auntie Lisie!
We saw the Gipsy Kings at the Ravinia Festival with Gramma.
The picnic was yummy, but the weather was chilly!
Thumbs up for Ravinia! (And for Doritos)
Jackson ran around making people smile in his Ewok-esque attire.
Ty takes his time with Uncle Greggor very seriously.
Apple pancake!! Delicious!
Ty can't have any yet...but it won't be long.
Gramma and Jackson make cookes.
"We can eat them?"